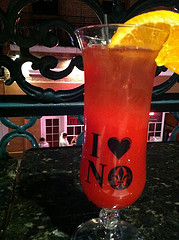 While it's just one street in a sprawling city with much to offer, Bourbon Street has gained quite a reputation around the world as a must-see-and-do attraction in New Orleans. But any stretch of land that boasts 24 hour drinking should not be approached without a few precautions and good sense guidelines.
What You Should Know About Bourbon Street
1. It is not kid-friendly at any time of day.
I wouldn't take my kids into a nightclub at midnight, but I'd have no problem having them walk up and down the Vegas Strip at noon. Bourbon Street is not like the Strip. While the workers and partiers alike are generally friendly and respectful, the street is lined with bars and strip clubs that graphically promote their activities with posters plastered on doors and outside walls.
You don't have to go into a strip club to see bare-breasted women on Bourbon Street. At noon.
2. The smell is horrific at any time of day.
I do not have delicate senses. Venice is one of my favorite places in the world and I have no idea what people are talking about when they complain about the stench of the water. But even I was overcome by the smell of Bourbon Street on a hot day. It is, to put it mildly, uniquely horrific. You're actually more likely to notice it during the day when the sun is hot and you haven't had a chance to dull your sense of smell with liquor.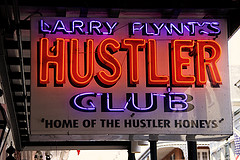 I'm not advising you not to go, but I am recommending shallow breaths.
3. The bars have an open-door policy.
Meaning the doors are open, come and go as you please. Just ordered a drink and your friends are ready to leave? No problem – take it with you to the next place! The only requirement is that your drink be in a plastic – not glass – container. This is actually a really great way to limit how much you drink because you don't have to keep ordering a new drink at every bar.
Speaking of bars…
Great Bars to Visit on Bourbon Street
Cat's Meow – the karaoke is great and easy to participate in and there's plenty of room for dancing or just standing around chatting up your friends.
Tropical Isle Bayou Club & Music Bar - if you ask nicely, the Cajun band will let you join in with a metal washboard and a spoon!
Bourbon Cowboy – because if you're already on Bourbon Street in New Orleans, you might as well add "ride a mechanical bull" to your list of things you've accomplished.
Relief Is Always a Block Away
For some people, Bourbon Street is the ultimate party experience. For others, it's something to be avoided at all costs. If you fall somewhere in the middle and would just like to check it out for yourself, remember that a scaled down version of the 'Nawlins party scene is always just a block away. You can find live music, great food, and a laid back scene on just about any block up and down Royal Street (and any other street in the Quarter).
And none of those streets have the Bourbon Street stench.
All photos by Britt Reints. My mother is so proud.