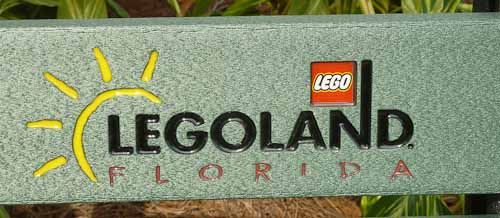 These were my 11 favorite things at Legoland Florida:
The historic carousel.  I love carousels and have been on many, but never a double-decker one before.
The Dragon roller coaster.  Even for coaster wimps like me, it's a fun ride, and the relaxing indoor ride through Lego creations is equal to the thrill portion when the dragon escapes outside.
Technicycle.  The interactivity in this ride is terrific–if you want your cycle to soar, you must pedal it throughout the ride.  Stop pedaling, and it sinks close to the ground.
Lost Kingdom Adventure.  It doesn't matter if you're an adult or a kid, shooting the lit targets will make you want to challenge your friends over and over again.
Granny's Apple Fries.  Like apple pie in a french fry container.  Yum!
Southern Belles.  A nod to Cypress Gardens' old days, these lovely Lego ladies greet visitors to the park and botanical gardens.
The Banyan Tree.  It's a huge tree and the focal point of the historic Cypress Gardens botanical gardens.  Walk through the gardens and teach your kids about the Banyan tree and cypress knees and you can claim an educational element to your trip.
Driving School.  I was disappointed that adults couldn't drive the little Lego cars one the miniature streets complete with roundabouts and stop lights.
Battle for Brickbeard's Bounty Waterski Show.  Seeing a foam Lego character on waterskis is remarkable; kids will love the story and alerting the princess to PIRATES!
Miniland.  Thirty million bricks formed into familiar sights make this the core of Legoland Florida.   Can you find all of the minilanders (tiny Lego people)?
Legos.  They're everywhere–in miniland, hanging around the park, and as the perfect souvenirs for your little Lego builder.
Legoland Florida, central Florida's newest theme park, is designed for families with children ages 2-12, and is located less than an hour from Orlando and Tampa, Florida.
Photo credits: the author.
Linda (minnemom) writes about family travel at Travels with Children, where her popular 11 Things series includes locations big and small, such as Walt Disney World; Decorah, Iowa; and Golden, Colorado.  Her expenses to visit Legoland Florida were paid by the park.