Minneapolis and St. Paul have several quality theatre venues available, with the Guthrie, the Ordway, the State Theatre, and others presenting both Broadway shows and original productions. Did you know, however, that there are several theatres with quality productions just for kids?  The Old Log Theatre in Excelsior puts on seasonal children's shows; Stages Theatre Company in Hopkins begins its new season Friday; and the Children's Theatre Company is off and running with its current productions.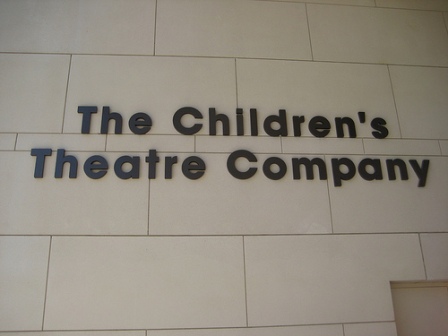 Children's Theatre Company is located just south of downtown Minneapolis in the same building as the Minneapolis Institute of Arts.  It has two stages, where its fall productions will include The 500 Hats of Bartholomew Cubbins and Robin Hood.
When I took my kids to see Mulan Jr at CTC, we were impressed with the comfortable seats and excellent setup of the theatre.  Any seat in this theatre is a good seat.  The productions are produced locally with mostly local talent, but the quality is amazing, as good as I've seen in traveling Broadway productions in other theatres.  The experience is child-friendly, however, with concessions such as milk and ice cream in the lobby pre-show and at intermission, and seats where kids can actually see the stage.
For those with extra time before or after a production, a stop in the Minneapolis Institute of Arts, with its always-free admission, is worthwhile.  Check out the children's room, or visit on a family day when special activities are planned.
If you live in Minneapolis, there's no shortage of places to take your children or grandchildren to see quality theatre shows.
The Children's Theatre Company
2400 3rd Avenue South
Minneapolis, MN
612-874-0400
Ticket prices vary by show.  Discount tickets are sometimes available on Goldstar.
Photo credit:  minnemom on flickr
Linda (minnemom) writes about family travel at Travels with Children.