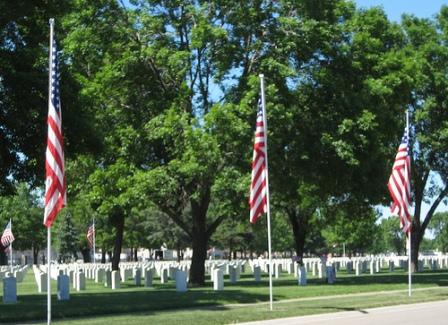 While picnics, camping, and beginning-of-summer getaways are perhaps the most popular activities of Memorial Day weekend, there are also many opportunities to observe the holiday by paying your respects to those who have fallen in war in service to the United States of America.  Many communities have memorial programs or parades to mark the day, and honor guards visit local cemeteries to offer salutes.
A visit to a national cemetery is another way to pay your respects to those who have served.  Seeing rows upon rows of white gravestones, perfectly aligned, gives a special perspective on the men and women who have fought for this country.
Arlington National Cemetery, with its Tomb of the Unknowns and the grave of President John F. Kennedy, is perhaps the most widely known of the national cemeteries, but did you realize that there are 131 national cemeteries, located in 39 states?
Yesterday I took my children to Minnesota's Fort Snelling National Cemetery, where we observed acres and acres of graves.  This scene is repeated in over a hundred locations across the country.  Our church's cemetery this morning is decorated with flags at the graves of each veteran as well.  Many, many people have served, some giving the ultimate sacrifice of their lives.
Amidst the fun and recreation of this summer kick-off, please take some time to honor those who have served our country.  Attend a program or parade, or visit a cemetery to pay your respects as you remember just what Memorial Day is all about.
Photo credit:  minnemom on flickr
Linda (minnemom) writes about family travel at Travels with Children.