If you haven't been to Walt Disney World in the past few years you may be surprised at the dining revolution that has taken place.  While you'll still find theme park food, new fresh, well-balanced meals are available throughout the parks and the offerings may surprise you.  From seafood to steak, fresh pastries to pasta, meat-less to meat pies, you are going to love eating your way through the "happiest place on Earth"
I was recently in Walt Disney World for a "Culinary Tour from 5 stars to Mickey Bars" and would love to share a sampling of what you can find around Disney World.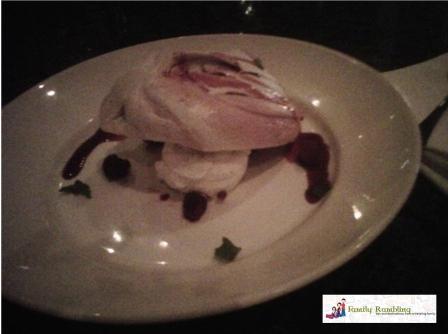 My culinary experience began late due to flight delays so after a quick freshen up, I headed to a place I knew I could get good food and a pint: Raglan Road Irish Pub.  Though the Downtown Disney location is larger than my beloved Kansas City pub, the menu is the same so I had no surprises (after the day I'd had I really couldn't have handled any more).  I sat back with a Magners, ordered the always fabulous fish & chips and let the stresses of the day drown in the live Irish music.  For dessert I tried Dundon's Delight: Vanilla Meringue resting on top of vanilla ice cream and dressed with strawberry champagne consommé, with mint leaf garnish.  The meringue was a sugary cloud that melted like a snowflake on my tongue.  The sweetness was countered by the mixture of strawberries and champagne, which was delightful.
Nothing is more Disney than a character breakfast and the one at Cape May at Disney's Yacht and Beach Club will prepare your family for the day's adventures.

The buffet has everything from egg dishes, biscuits and gravy, pastries and Mickey waffles, to fresh fruit and a yogurt bar.  You can also get breads (bagels, toast, English muffins) and cereals. (Want to get the characters when they aren't rushed?  Eat breakfast off-peak hours. We arrived about 9am and the restaurant wasn't terribly busy so we spent ample time with Minnie, Donald and Goofy.)
Breakfast and dinner buffets $15.99- $29.99 per person

The Hoop-Dee-Doo Review at the Fort Wilderness Resort is one of the longest running shows at Walt Disney World.  Apparently it hasn't changed in 35 years!  The meal is "cowboy campfire food" served on tin plates while you enjoy a show that invites you to join in and have a laugh.  You may even end up on stage!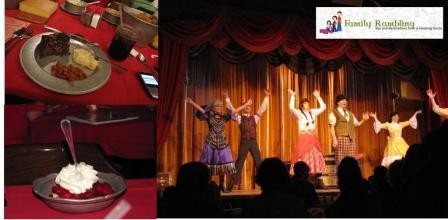 Dinner consists of big slabs of cornbread, salad, ribs, fried chicken, mashed potatoes and baked beans.  Not a carnivore?  Mention that when you make reservations and your server will offer you pasta or a veggie platter.
Tickets: $25.99- $59.99  (based on ages and seating)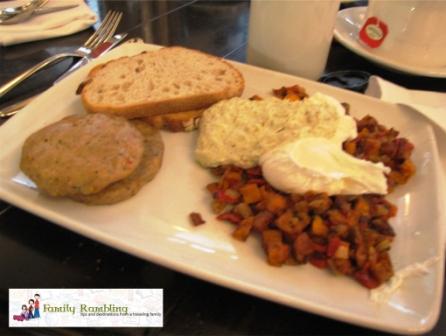 Still thinking about breakfast, I checked out Kouzzina by Cat Cora®, located on the Boardwalk.  I wasn't really sure what to expect as Mediterranean food doesn't really translate to breakfast in my mind.  Luckily I have an open mind.  I tried the Kouzzinna Stack: Two Poached Eggs, Kalamata Olive toast, Artichoke Spread and Sweet potato Hash with choice of Bacon or Chicken Sausage.  The artichoke spread was incredible.  I'm not a fan of sweet potatoes but that didn't stop me from eating half the hash.
Other delicious options that surrounded me were the Classic Golden Waffle with Whipped Mascarpone Cheese, Honey, and Chopped Pecans and choice of Bacon or Chicken Sausage and the Blueberry-Orange Granola Pancakes with warm Maple Syrup and choice of Bacon or Chicken Sausage.
Breakfast $15-$30
I spent the rest of the morning and early afternoon wandering around Epcot.  Or, to be more specific, strolling through the World Showcase and looking at the amazing topiary showcased during the Flower Festival.  I started to get hungry around Germany so I stopped for lunch at Sommerfest.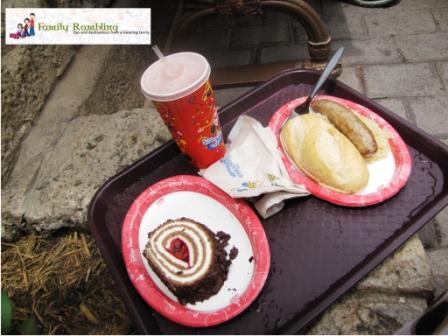 A brat with kraut and Black Forest roulade washed down with Fanta.  Mmmm…
Lunch and dinner; prices from $3.29, meals average $10- $15  per person
Unfortunately my time was running short and I had to catch the Magic Express to the airport.  Knowing I had a long evening of travel ahead of me I made a final stop at the Boardwalk Bakery for some "to go" sustenance.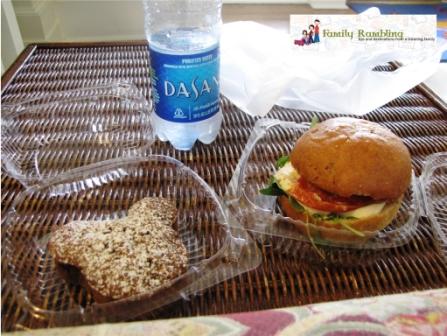 Mozzarella and tomato on a focaccia roll with a chocolate chip Mickey muffin.
Prices $14.99 and under per person.
I ate during the ride to the airport and plotted my return to Walt Disney World- this time with the family!
What are your favorite foods at Walt Disney World?  Share your dining tips in the comments!
Jody Halsted shares her family travel
tips and destinations at Family Rambling.
This was her first trip to Disney World.