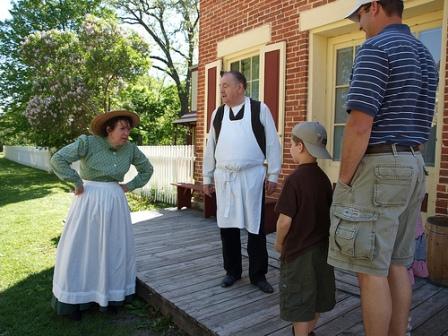 Set in the beautiful rolling hills of the southeast corner of Minnesota, Forestville/Mystery Cave State Park offers a unique combination of nature and history as well as the usual outdoor activities of state parks.
Forestville/Mystery Cave State Park
Famous for: Tours of Mystery Cave and the 1800′s village of Historic Forestville
Admission: $5 daily vehicle permit or $25 for an annual pass.  Mystery Cave and Historic Forestville tours have an additional charge.
Families with young kids will like: Helping in the garden or feeding the chickens at Historic Forestville, a living history site run by the Minnesota Historical Society.
Families with teenagers will like: Visiting Mystery Cave, either on a basic tour or one that's more extensive.
Other travelers will like: Hiking along the Root River, riding on the horseback trails.
Easy site seeing: Park in the Forestveille parking area and walk across the Carnegie bridge to the historic village.  Look down at the clear water in the river.
Camping: 73 campsites, 23 of which are electric.  Camping fees range from $16-$24 per night.  Horse and group camps are also available.
Best months to visit: May through September
Nearest cities: Rochester, Minnesota, and La Crosse, Wisconsin
More information can be found at: Minnesota DNR's Forestville/Mystery Cave page.
Related posts: Mystery Cave, Historic Forestville
Photo courtesy of: minnemom on flickr
Linda (minnemom) writes about family travel at Travels with Children. 
She's taken her kids to both Mystery Cave and Historic Forestville (twice),
and is hoping to return to the park on a camping trip this summer.