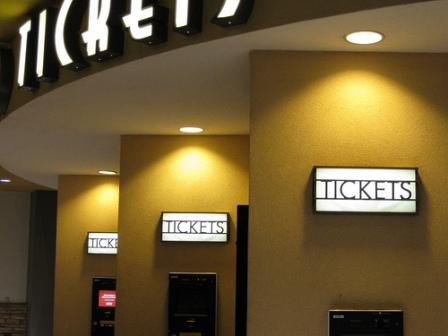 Most people enjoy seeing a movie on the big screen, but few can argue that ticket prices keep getting higher and higher.  What's a frugal family to do when they want to see a movie, but not pay the big ticket prices?  If they're in the Minneapolis-St. Paul area, they'll head to Bloomington's Mall of America and see a free "family flick."
That's right, on Saturdays year-round and Wednesdays during the summer months, the Theatres at Mall of America offer free family movies on a first-come, first-served basis.  Movies begin at 10 a.m. and the doors open about 20 minutes before that.  All you have to do is show up and take a seat.
Of course, these are not the latest releases, but will your kids really care if it's a film that's been out for a while?  You may even be able to introduce them to one of your own favorites–our family enjoyed seeing The Sound of Music on the big screen, and Home Alone is on the schedule next month.  Films change each week, and the schedule is posted online.  (You may have to scroll to the bottom of the page for all the details.)
The theatres boast high-back, rocking chairs, and there are boosters available so tots can see the screen.  And, of course, there are concessions available for the films.  Popcorn for breakfast, anyone?
Mall of America isn't just for shopping, and there's plenty to do for kids at the mall.  If you're looking for some cheap fun, add MOA's Free Family Flicks to your list of cheap and free things to do at Mall of America.
Photo credit: EvelynGiggles on flickr Creative Commons
Linda (minnemom) writes about family travel at Travels with Children. 
The American Girl Store and Nickelodeon Universe Ropes Course are other things her family has enjoyed at Mall of America.