The first time I visited New Orleans it was to attend a conference and hang out with friends. It's no surprise, then, that I spent a few nights on Bourbon Street and got very familiar with the Crescent City's reputation for a good party. I had a blast, but I was a little nervous about how my routine visit – one I planned to make with two small children in tow – would compare.
Visiting New Orleans with kids definitely involves fewer hurricanes and mechanical bulls, but there's still plenty of fun to be had. In fact, most of New Orleans is very family friendly.
Kid-Friendly Things To Do in New Orleans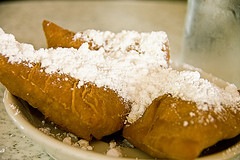 1. Grab beignets at Cafe du Monde.
This 24-hour coffee stand was practically made for children. After all, who loves fried pastries smothered in powdered sugar more than kids? Fortunately, the coffee with chicory, while a local treasure, is optional. People watching and listening to the street musicians, however, is mandatory. Lucky you.
2. Play at New Orleans City Park.
This is one of the best metropolitan parks I've seen in the United States, and I've visited many. It's beautiful and bustling. You can take a walk along the water, climb ancient live oaks, or play with other kids on the playground equipment. You can also fish, walk your dog, have a picnic, or visit the free sculpture garden that's located inside the park.
3. Visit a cemetery.
Sign up for a cemetery tour and let a knowledgeable guide introduce you to the fascinating history that lies with old stone crypts. Cemetery tours should be taken during the day no matter who you're traveling with, so there's no need to worry about kids getting freaked out. In fact, your kids will probably think the above-ground graves and elaborate monuments are pretty cool.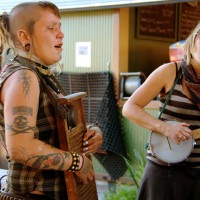 4. Listen to live music in the French Quarter.
You don't have to go into a bar to get an earful of the New Orleans music scene. Spend some time walking around the French Quarter and you're sure to come upon a musician or a band giving free shows to tourists. The polite thing to do, of course, is to show your appreciation for being entertained with a tip.
5. Ride the streetcar.
For a few bucks, your family can grab the streetcar at Carondelet at Canal Street and ride it 13 miles down and through the Garden District, past some of New Orleans oldest and most impressive homes. If you've got a little more spending money, hop off at Audubon Park and visit the city's zoo.
Photos: Britt Reints