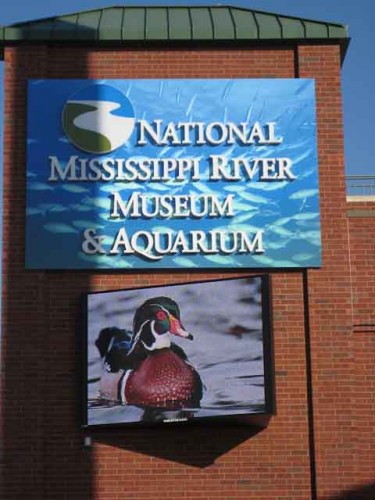 When one thinks of aquariums, Iowa may not be the first place that comes to mind.  Dubuque, Iowa, however, has and aquarium and a quality museum that goes along with it, all in celebration of the Mississippi River, which is just steps away.
As a member of the Association of Zoos and Aquariums and affiliated with the Smithsonian Institution, this campus of two buildings and seasonal outdoor exhibits showcases the Mississippi River.  Aquarium exhibits show fish and wildlife that live in and along the river; a favorite is the river otters sliding in and out of the water, while perhaps less popular are the snakes that are found in the area.  Instead of a large aquarium tank, several smaller aquariums highlight different aspects of river life.
The museum exhibits range from a history of the river's exploration to hands-on areas for children to information about Mark Twain complete with a replica of Tom Sawyer's cave.  A 3D theater features films on a rotating basis. Outdoors, see a tug and other river boats, and sit on a bench with Mark Twain.
The Port of Dubuque area where the museum is located is adjacent to Dubuque's downtown, and just steps away from a casino, a riverwalk area, and the Spirit of Dubuque paddlewheeler, which gives tours of the Mississippi River itself.  Just a few miles down the road is the historic town of Galena, Illinois, home of President Ulysses S. Grant.
There are many things to do in the Dubuque area, and visitors to the area should consider a stop at the National Mississippi River Museum and Aquarium for an educational and interesting look at the Mississippi River environment and history.
The National Mississippi River Museum & Aquarium
350 East Third Street
Dubuque, IA
563-557-9545
Hours and Admission vary.
Photo credit: the author.
Linda (minnemom) writes about family travel at Travels with Children.