It's been a long winter.  I can say that because we've had snow on the ground for four months now, and the mud and mess of the spring thaw are finally about to begin.  Even the hardiest Minnesotans are tiring of the winter this year.  We really do need a Spring Break this year, and for northern families, the dream is to go somewhere warm and sunny.
I submit the idea of a cruise as a fun family spring break getaway.  If you can get to a coast, whether it be California, Florida, or Texas, you can find a cruise that will take you to warmer climes for a few days or more.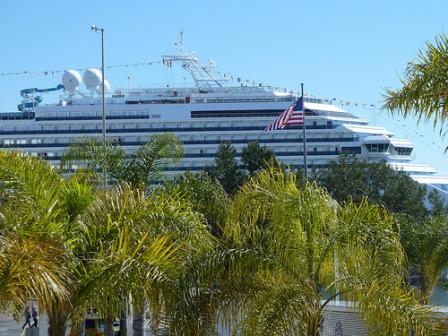 My husband and I recently returned from a 7-day cruise on Carnival Splendor to the Mexican Riviera from Long Beach, California.  While our children stayed behind this time, as a mom I was constantly assessing the benefits and drawbacks of a cruise with kids.  These are my observations.
Benefits:
Many cruise lines offer kids' clubs with trained staff and special areas for kids to play.  On a cruise, families can hang out together all the time if they wish, but if Mom and Dad want to relax for a while or have a romantic dinner for two, the kids can play in the club area.
There's plenty to do.  Kids on a cruise will enjoy the pools, but there's much more than that.  Splendor has a splash zone, waterslide, and mini golf.  Other cruise ships have rock climbing walls, ice skating rinks, and other fun things for families to do together.  Trivia games, family karoake, and poolside movies are other things families can enjoy together.
Food choices abound.  We have a daughter who's a very picky eater.  As we walked around the ship, we were on the lookout for things she would eat, and we were pleased with the selections.  Even if just cold cereal, fresh fruit, hot chocolate, french fries, and ice cream, she would have found plenty to keep her tummy full.  More adventurous kids might like to try some of the more exotic items on the menus.
See new places.  I have an eight-year-old who is clamoring to get off this continent.  Ports of call on a cruise ship would get him a bit closer to his goal.  Many of the port excursions are things we can't do close to home, so a cruise offers the chance to do some new and exciting things.
Challenges:
Waiting in lines.  There's a lot of waiting on a cruise, from the time you check and go through security, to the buffet lines on the ship, to waits for the elevator, to clearing customs on the way home.  Maybe your kids are better at waiting in line than mine are.  I'd have to be at my best to keep the kids happy during the waiting times.
Being organized.  I was nervous about having passports, room key cards, and customs papers for my husband and myself, and we're reasonably responsible adults.  Keeping track of the kids' paperwork would be a bit more of a challenge, especially when trying to move expeditiously so as to not hold up the travelers behind us in line.
Keeping track of each other.  While younger kids would be dropped off and picked up by Mom or Dad from the play areas, older kids can move about the ship on their own.  Cruise ships are big, so the family would need a good plan of communication and meeting points if participating in different activities.
A cruise can be a relaxing, carefree way for families to spend Spring Break.  Once you're on board, you don't have to worry about the normal vacation hassles like traffic, finding a place to eat, or looking for entertainment.  It's all right there on your cruise ship.
Have you been on a cruise with your family?  Who liked it more, the adults or the kids?
Photo credit:  minnemom on flickr
Linda (minnemom) writes about family travel at Travels with Children, where she offers her Top Ten Carnival Splendor Tips.
Related:

5 Spring Break Ideas for Families