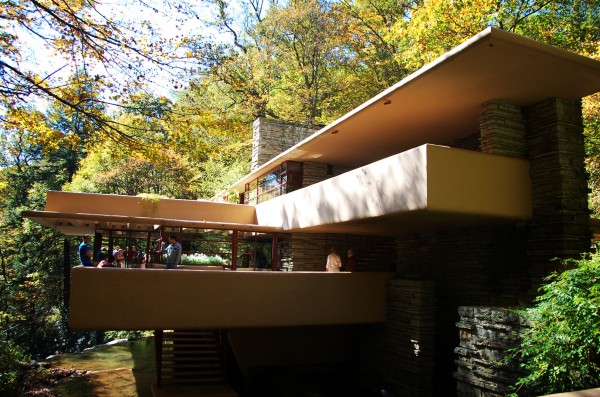 "It's a building," my kids said.
"Yeah, I'll pass," my husband added.
None of my family members could understand why I was so excited to spend an afternoon touring a house in western Pennsylvania that no one had been vacant for forty years. Even I, a Frank Lloyd Wright fan, wasn't sure what to expect beyond an initial moment of awe upon seeing a home teetering on the edge of a waterfall.
The waterfall, as it turns out, was only a smart part of what made the former home of Pittsburgh department-store tycoons, the Kaufmann family, such a marvelous spectacle to explore.
Fallingwater was built for the Kaufmanns in the 1930s as an escape from the dirt and noise of the Steel City. When they originally commissioned Frank Lloyd Wright for the project, the Kaufmanns assumed they were having a home built with a view of beautiful waterfalls. It wasn't until they saw the first sketches that they learned their home was to be built on top of the falls and into the surrounding mountainside.
A home teetering above rushing water is a sight to behold and an auditory wonder, no doubt. But the architectural genius is most evident inside the home where Wright's firm hand controlled precisely how his building would be enjoyed. He used tight corridors and narrow doorways to force relief and an outward facing perspective upon entering his rooms and built-in storage spaces to dictate a clutter-free living space. Wright envisioned a family living among nature, not just looking out at it through windows, and he created sweeping decks, wide angel windows, and a waterfall-level patio to accommodate this vision.
Self-guided ground tours of Fallingwater start at $8, although a $20 guided tour of the house and guest quarters offer much more information than what can be gathered with the naked eye. An in-depth tour is $65 per person and is the only tour option that permits photographs of the inside of the house. Reservations should be made several weeks in advance for any of the guided tours, especially during the fall months when the autumn leaves allow for breathtaking photographs of the area.
Photo Britt Reints