In days gone by, cities built on bluffs faced a dilemma as they grew:  how to efficiently move people from the top of the hill, where homes were being built, to the lower ground where many worked.  A roadway might go miles out of the way, so a more efficient system was devised, a funicular railway.  These cable-driven railways moved people from the top of the hill to the bottom (or vice versa) along a very steep incline.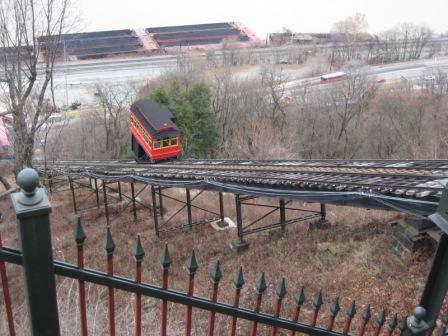 Pittsburgh, Pennsylvania, has one such system.  The Duquesne Incline opened in 1877 and was restored in the 1960s.  Today it is still operational, affording a beautiful view of the city from the top observation deck.  A museum of the incline's history is at the top station, and tours that show the workings of the system are also available.  With a maximum round-trip fare of $4.50 for a round trip (with reduced rates for many groups and ages), it's a slow-speed thrill ride as you climb the steep hill and look out over the city from above.  It's not just for fun, however, as it is still used by commuters to get from home to work or school.
The main station of the Duquesne Incline is located at 1197 West Carson Street in Pittsburgh, and operates from 5:30 a.m. to 12:45 a.m. Monday through Saturday and 7 a.m. to 12:45 a.m. on Sunday.
Another such cable car can be found in Dubuque, Iowa, where the Mississippi River bluffs rise high above the downtown area of the city.  The Fenelon Place Elevator is the world's shortest, steepest scenic railway, and from the top visitors can see three states.  The Fenelon Place Elevator got its start in the early 1880s, but fires caused it to be rebuilt several times.  Today it is listed on the National Register of Historic Places, and visitors or commuters can enjoy the ride for $2 roundrip.  Children 5-12 are half-price, and kids under 5 are free, a bargain price for a moving history lesson.  The top of the Fenelon Place Elevator offers views of downtown Dubuque, the Mississippi River, and surrounding areas, and at the bottom there are several shops and restaurants.  The downtown business district is just a few blocks away.
The Fenelon Place Elevator is open from 8 a.m. to 10 p.m., April 1 through November 30, and is located at 512 Fenelon Place in Dubuque.
Other cities around the world have built funicular systems to move people up and down steep inclines.  Have you had a ride on one of these cable cars?
Linda (minnemom) writes about family travel at Travels with Children.  She continues to ride on these funicular railroads despite a strong fear of heights.