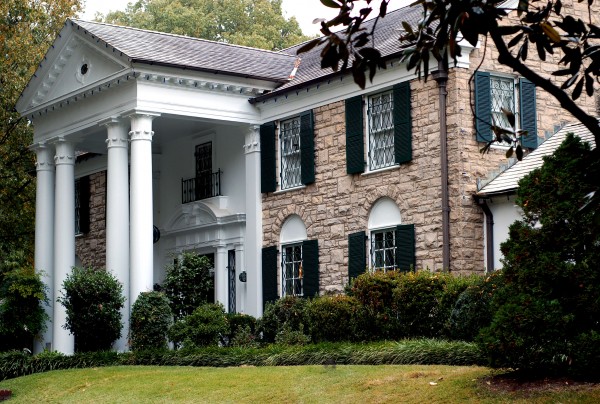 Although Graceland is definitely one of the most well-known attractions in Memphis, and its former owner definitely one of the most famous Memphians, many visitors might be hesitant to pay the price of admission if they aren't big Elvis fans. With tours of the mansion starting at $31 for adults, it's understandable – but is skipping the potentially cheesy tourist destination a good idea?
My family was provided free tickets for the Graceland Platinum Tour during our recent visit to Memphis. Had we not, I'm almost positive we wouldn't have shelled out the $87 it would have cost us to visit. With the benefit of hindsight, I can say with confidence that we would have been missing out on an important look at American culture and a musical icon.
The Platinum Tour includes access to the Graceland mansion and grounds, which includes a self-guided audio tour that's done very well. The audio tour not only explains what you're looking at, but offers an intimate glimpse at the man who took refuge there. I walked away with a better understanding of a fun-loving man who loved his family and friends, but who was tragically ill equipped in some ways to handle the pressures and privilege of fame and fortune. His apparent obsession with entertaining an entourage, seen from the famous Jungle Room and Billiard Room to the collection of motorized vehicles and makeshift shooting range, seems to hint at a man who was somehow lonely while never being alone.
The house itself is an homage to horrific taste, while the grounds are surprisingly refined and beautiful, with the exception of the family cemetery where Elvis and his parents and grandmother are buried. Originally built as a meditation garden, this living shrine is both reverent and whimsical, a place where plastic flowers and stuffed animals sit among stone angels and an enormous statue of Jesus Christ.
In addition to the mansion and grounds, the Platinum Tour includes access to the Elvis Car Museum and his private plan, the Lisa Marie. You won't find anything particularly touching or intimate here, but rather an opportunity to gawk at the things that celebrities spend their money on. It's slightly interesting, yes, but not necessarily worth the price of a ticket upgrade.
Photo: Britt Reints