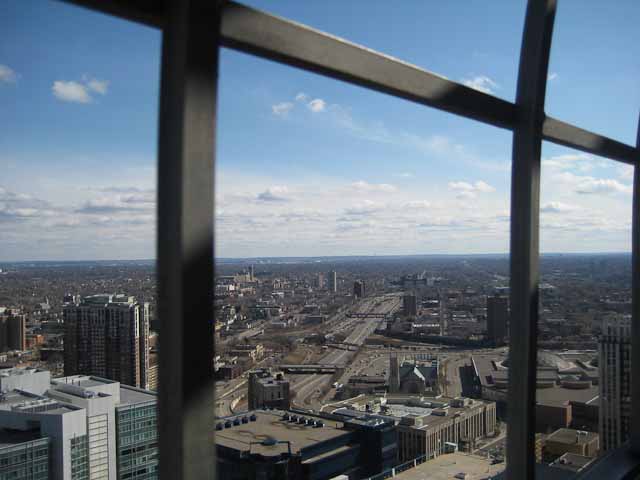 There's something breathtaking about the view from up high, where you can see for miles on a clear day.  Old or new, towering wonders in the United States still draw visitors by the thousands who want to rise to new heights and see the view from the top.  Mountains and other natural landmarks offer lofty views if you can make it to the summit.  For some unexplained reason, I've been to a bunch of these high places despite my fear of heights.  Smart or not, here they are.
Bonus:  Scotts Bluff National Monument, Gering, Nebraska.  At a mere 800 feet above the surrounding prairie, I thought I could handle Scotts Bluff.  At the top, however, even my husband was surprised to see that the trails run rather close to the edge without benefit of a railing of any sort to save clumsy people from certain doom if they'd happen to trip and fall.  I WAS the crazy mother hanging on to hands and shrieking at my kids to keep to the inside of the trail at Scotts Bluff.  But I did allow them to sit on the bench for just a second so that I could get this photo as proof that I've allowed them to do something big and scary in their lives despite my own fear of heights.
Oh, and if you want to go somewhere really scary, try western North Dakota's Fairview Lift Bridge.  It's only 80 feet or so above the water, but it's a railroad bridge that was used simultaneously as an automobile bridge for many years.  And if that's not scary enough, there's a curved tunnel at the eastern end that is completely dark in the middle, and there are signs warning of rattlesnakes in the area.  Needless to say, I didn't make it far across this one.