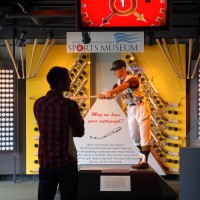 My family and I spent about a month visiting Pittsburgh recently, a luxury most visitors don't have. Usually guests drop in on new cities like unexpected in-laws, hoping to learn as much as possible in a long weekend or short week. While every city has quintessential attractions — many with hefty advertising budgets to lure the bulk of first-time visitors — some of the best places to absorb a lot in a short amount of time are the lesser known local museums and history centers, places dedicated to moments and themes only natives and school teachers care about. Remember the historical society in your own town you visited on an elementary school field trip? That's actually an excellent place for a town newbie to find out what you and your neighbors are all about. The Heinz History Center is Pittsburgh's local field trip hot spot and storyteller worth listening to.
The Senator John Heinz History Center is part history and part sports museum, which makes sense if you know anything about the fanatical nature of Pittsburgh fans. They are sports fans through and through and the History Center helps visitors understand why by illustrating the development of sports lore in the industrial town. The center introduces old heroes and makes the case for sports as an escape for hardworking Americans.
The history center also examines Pittsburgh's role in early American history and highlights some of the inventions and technologies that came out of the soot clouds for which the city was once known. Today the city is better known for it's beautiful bridges and tree-covered hills, but the spirit of innovation and love of sports live on.
Photo:Britt Reints