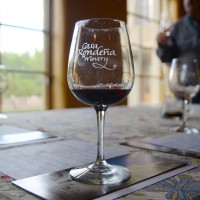 Albuquerque, New Mexico isn't exactly known for its wine, but that hasn't stopped the folks at Casa Rondeña Winery from making award-winning vintages for more than 15 years. Located on the northwest side of town, the winery welcomes locals and tourists to fall in love with wine again or for the first time at an estate that looks as if it's been transplanted directly from the Tuscan countryside.
The winery started as a family vineyard with enough space for John Calvin to live, grow grapes, and make wine with his wife and two sons. Today the property features gardens and fountains, a public gift shop and tasting room, and a private club attached to a barrel aging and storage facility.
Visitors to the winery can walk between the grape vines and snap photos in the gardens before entering the tasting room to sample ten hand-crafted wines. A tour allows you to see the wine-making process from grape to glass.
In addition to pouring, winery staff will also help educate you on what you're tasting and what — according to the experts, anyway — makes good wine. Learn about "wines with good legs" and the importance of proper wine-glass holding in addition to what actually goes into each glass. Perhaps the best bit of advice to be heard here, however, is that there is no right or wrong opinion to have about wine. A dry red is no more sophisticated than a sweet white or a blushing rosé. At Casa Rondeña Winery, they offer enough variety to please any palette.
Photos Britt Reints