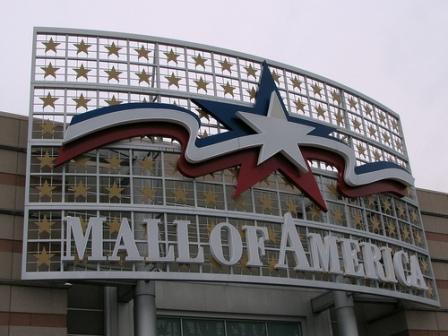 A few years ago, our family decided to go to Mall of America. On a Saturday. Which happened to be Valentine's Day.  Let me tell you this:  it was a very popular place to be!
In 2011, with Valentine's Day falling on a Monday, couples may decide to celebrate on the weekend or on February 14, and Mall of America will be a popular destination as always.
These are some special Valentine's Day specials happening at Mall of America this year:
Special menus and features at restaurants such as Napa Valley Grille, Tucci Benucch, and Twin City Grille
Three-course dinner for two, $90, or with a bottle of wine, $120, at Crave
Free double sided lip gloss with purchase of two products at Origins (February 11-14)
100 truffles of your choice for $30 plus free token heart tin at Lindt.
Date night package at Theatres at Mall of America (February 11-15). Producers package for $25 includes two general admission tickets, two large sodas, and a large popcorn.  Directors package for $30 includes two VIP tickets, two beverages (house wine or domestic beer), and a large popcorn. Package can be purchased at theatre guest service desk.
Of course, romance can mean different things to different people, so you and your Valentine may wish to enjoy a ride at Nickelodeon Universe, or a special gift from one of the many stores at MOA as your special Valentine's celebration.
Happy Valentine's Day!
Linda (minnemom) writes about family travel at Travels with Children.
Photo credit:  Cliff1066 on Flickr Creative Commons
Related Posts:
Valentine's Day Romance in Kansas City
Valentine's Day for Families in Minneapolis-St. Paul